Replacement Chainsaw Chain 12" 45 Drive Links Pitch 3/8LP Gauge .043
These replacement chainsaw chains are semi chisel domestic quality and designed for light or home use, that said they are very good value for money and can be hand sharpened with a 4mm round file
Chain Pitch 3/8LP, .043 Gauge Drive Links 45
. Chrome Cutters for longer life and sharper edge
. Engineered for precision cutting and low vibration
. Individually sharpened cutters
Oregon 91, 91VS, 91VG, 91LX, 91R and 91VXL
Stihl 63PM 63PM1, 63PMX, PMC3 and PD3
If you need to identify your chain then you need to know the following information.
Chain Guage:
Chain gauge is the drive link's thickness where it fits into the guide-bar groove. The gauge of the chain and the gauge of the guide bar must match. OREGON® has several gauges - such as .050", .063", etc.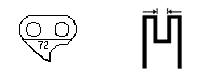 Chain Pitch:
Chain pitch is the distance between any three consecutive rivets divided by two. Pitch defines the size of the chain. OREGON® chain is made in several pitches - 1/4" is the smallest, 3/8" is the most popular. Other parts of the cutting elements are pitch-related. The drive sprocket must be the same pitch as the chain, and so must the nose sprocket in sprocket-nose bars.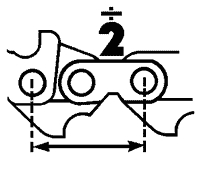 Number of Links:
The number of drive links need to be counted. These are the teeth on the back of the chain shown below.